The STP model in Marketing
Before starting a business, it is crucial to evaluate and have a clear vision of your chances of success.
If you are going to seek cooperation or funds from a third party, it is very important that you present them with explicit convincing materials. From the very start, it is expected that you have conducted thorough surveys and research that helps you clearly visualize the market you are trying to infiltrate and provide answers to questions such as the identity of your targeted group of customers and their needs.
Including market research, the basic thinking model when drawing out a marketing strategy is the Segmentation, Targeting, Positioning (STP) approach. Below is a breakdown of this three part process for developing marketing strategy and an explicit use of it for a market survey.
S: Segmentation
Segmentation means categorizing consumers with similar needs. Or in simpler words, to decompose the group and make it easier to understand. The most important question to answer at this stage is to figure out the most attractive market for your business (a market where your strengths can be best used and appreciated). Therefore, it is just as important to choose the right angle to look at the group of customers from. The most common criteria for repartition are usually demographic, geographic, psychographic, and behavioral.
| | |
| --- | --- |
| Demographics | Age, gender, income, family composition, education course, occupation, etc. |
| Geographic | area、density、climate, etc. |
| Psychographic | Character, personality, lifestyle, etc. |
| Behavioral | Expected benefits, shopping frequency, their reactions to advertisement and prices, etc. |
T: Targeting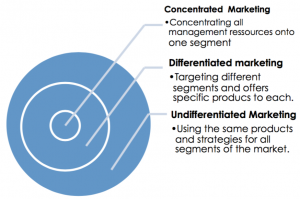 Targeting is the process of using the results of the market breakdown to single out the market where your company's strength can shine at their best and provide maximum satisfaction to the customers.
For example, based on the results of the previous section, you could decide that your main target will be "wealthy women over 40, with an annual income of 8 million yens, who enjoy drinking even by themselves in the city"
P: Positioning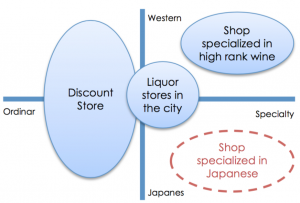 The last step, positioning, consist of presenting your business proposition in such a skillful way, that it will look more attractive than any of your competitors' plans. This step should allow the customers to be able to pin you on a position map, with a clear view of what separates you from the other companies, and what gives you the edge over them. Drawing a map such as the one on the right is essentially important here as it will help you clearly visualize your differences.
For example, for a company looking to go into the liquor retail sale business, using a graph with the labels "western" and "Japanese" as the extremes on the vertical axis and "ordinary" and "specialty" on the horizontal one, they can plot their nearby rivals and see where they can actually make a difference.
How to conduct market research
Having the ability to efficiently use websites and obtain objective data can prove really helpful when trying a conduct a specific market research.
1) Research on market trends
Before going into the segmentation, you will first need to have a grasp of how things are in the businesses to which your target customers belong to. For that, you can use the free search tool Research Navi, provided by the National Diet Library.
Research navi
http://rnavi.ndl.go.jp/rnavi/
This website is provided by the National Diet Library serves as a research tool, which will efficiently give you the information you need based on the keywords or fields of your choice. From books to websites, including all kinds of data bases, it will give you every information related to your research.

If you want to find data about the restaurant business for example, you can type in "restaurant business" in the research box. The website will show you how to search for materials to learn the basics about the food-service industry. From then, you will get links for the different organizations in the industry.

 
2) Knowing the reality of the field
If you have picked your target based on geographical reasons, it is important that you know the reality of things in that specific area. Following website is free of charge and very helpful for that kind of information.
Bureau of Statistics of the Ministry of Internal Affairs Statistical data
http://www.stat.go.jp/data/
This website by the Bureau of Statistics gives you access to raw and processed survey data, as well as Japan Statistical yearbook, statistics about Japan and the rest of the world. This includes data such as census, economic census, population estimate, labor force surveys, household expenditure surveys, consumer price index

For example, you can look up the population ratio or the income level for each prefecture.

 
3) Knowing the trend
To shed light on what makes you different from the other companies, you need to understand your customers' needs. In other words, you need to know what the latest trend is in the market environments.
| | |
| --- | --- |
| Google Trend | https://www.google.co.jp/trends/ |
|  This website comes up with a tendency graph for how often a particular word is looked up on Google. Not only that, it also shows you what were the news at the time that word was searched for, so you can match world top news to the periods the word was most searched for. Related search results will also appear, so by looking at fluctuation of the volume of search, you can have an idea of what the trend around that word is. |   |
The 4C and 4P of Marketing
For your customer to understand where your company's stand, you will need a marketing strategy that is a well balanced mix of four approaches based on Product, Price, Place and Promotion. This being the focus points for the company (selling party), it is also important to have an approach based on what is important to the customer (buying party). In that case, the thinking points would be Customer values, Customer Cost, Convenience and Communication.

「Product ←→ Customer Value」
First step will be to evaluate the features your product has, their quality, design, guarantee and aftercare system, the packaging, and see what separates them from the competitor's products. Then, think about it from a customer's point of view and see if those differences bring added value to the customer's life.
「Price ←→ Customer Cost」
This is the price setting step where retail prices, discount rates, odd prices, etc. are decided. From the customer's point of view, this should tell them the cost of enjoying the value of that product.
「Place ←→ Convenience」
"How do you deliver that value to the customer?" In general, this refers to sales channel (such as stores, online shops, direct sellers, and whole sellers), distribution channels and logistics, but in this instance, we are also talking about information provision. As a customer, you want to know how much efforts is needed to benefit from that value, whether you will have to go to the store, or it could be delivered to you? Your answers to those question should inspire you to put in a place a system that allows the customers to purchase and own the product the fastest possible way.
「Promotion ←→ Communication」
"How do you want your customers to find out about the products? How should they make sense of it?" There are a lot of tools at your disposition from, advertisement boards, to using salesmen, direct mails, spreading positive reviews, using social media. The point is to find a way to communicate with the customers about the product.
As we have seen, coming up with a mixed marketing strategy by balancing four different components of marketing, viewed from both the buyer and the seller sides can be a powerful tool in tactical marketing. The key is to know how to combine them.