Status of residence for foreign nationals
Foreign nationals wishing to reside in Japan are required to obtain a status of residence in accordance to the type of activities they will engage in. For example, visiting tourists in Japan are generally granted a status of "Temporary Visitor" at the time of entry in Japan. For foreign nationals living in Japan for work, they must obtain status of residence such as Engineer/Specialist in Humanities/International Services.
For a foreign national to start his own business, he is required to obtain a visa under the status of Business Manager.
<Type of status of residence and corresponding activities>
Type of status of residence
Relevant case
Diplomat
Ambassador, minister, general consulate or delegation member of a foreign government and their families
Official
Employees of an embassy or consulate of a foreign government, individuals assigned by an international institution for an official assignment and their families
Professor
College Professor
Artist
Composer, artist or writer
Religious Activities
Missionary assigned by a foreign religious organization
Journalist
Reporter or photographer of foreign press
Business Manager
Manager or administrator of a company
Legal/Accounting Services
Attorney, Public Accountant, qualified by Japanese authority
Medical Services
Physician, dentist or registered nurse, qualified by Japanese authority
Researcher
Researcher at a government related institution or company
Instructor
Language instructor at a senior high school or junior high school
Engineer/Specialist in Humanities/International Services
Engineer such as mechanical engineering

Interpreter, designer, language instructor at a private company etc.

Highly Skilled Professionals
Highly-skilled human resources in accordance with the points system
Intra-company Transferee
Transferee from an office abroad
Entertainer
Actor, singer, dancer or professional athlete
Skilled Labor
Chef of foreign cuisine, sports instructor, aircraft pilot, craftsman of precious metals
Technical Intern Training
Technical interns
Cultural Activities
Researcher of Japanese culture
Temporary Visitor
Tourist or conference participant
Student
Student at a university, junior college, college of technology, senior high school, etc.
Trainee
Trainee
Dependent
Spouse or child who is dependent of a residing foreign national
Designated Activities
Advanced researcher, domestic staff of a diplomat, working holiday, foreign nurse/care candidate under an Economic Partnership Agreement
Permanent Resident
Individual permitted permanent residence by the Minister of Justice (except for special permanent residents of the Special Law on Immigration Control)
Spouse or Child of Japanese National
Spouse, biological child or child adopted by a Japanese national
Spouse or Child of Permanent Resident
Spouse or biological child of permanent resident or special permanent resident who was born and continues to reside in Japan.
Permanent Settler
Indochina refugees, Third generation Japanese descendant, war-displaced Japanese left behind in China
※For permanent resident, Spouse or child of Japanese National, Spouse or child of Permanent Resident, as well as Permanent Settler, statuses of residence, there are no restrictions on the type of activities allowed. Similarly to Japanese nationals, they don't need be concerned about the minimum capital of \5,000,000 to establish a company. They are also allowed to use their own home as a business office.
Application process for acquisition of status of residence
Following are the various types of procedures for status of residence.
Application for certificate of eligibility
Application needed when inviting a foreigner over to Japan. After receiving the certificate, they can then get a visa at the Japanese embassy in the country of residence
Application for change in status of residence
Application when there is change in the status of residence.

Ex: If someone quit their job to start their own business, their status changes from "Engineer/Specialist in Humanities/International Services" to "Business Manager".

Application for extension of status of residence
Application needed to extend the current status.
Application for the permission to obtain status of residence
At the time of birth of a child in Japan、When breaking away from the Japanese citizenship in case of dual nationality.
Application for permission to re-entry
Required if the resident plans to stay overseas for more than a year.
Application for permanent residence
Foreign national who have been residing in Japan for a lengthy period of time and meet certain requirements can apply for this status if they wish to.
Application for permission to engage in activities outside of permitted scope
For those who wish to engage in part-time jobs but are not allowed to under their current status.
Below is an illustrative flowchart of the procedures a foreign national residing overseas and wishing to start a business in Japan will have to go through to obtain his visa as "Business Manager" (Application for Certificate of Eligibility).
<flowchart for Application of Certificate of Eligibility>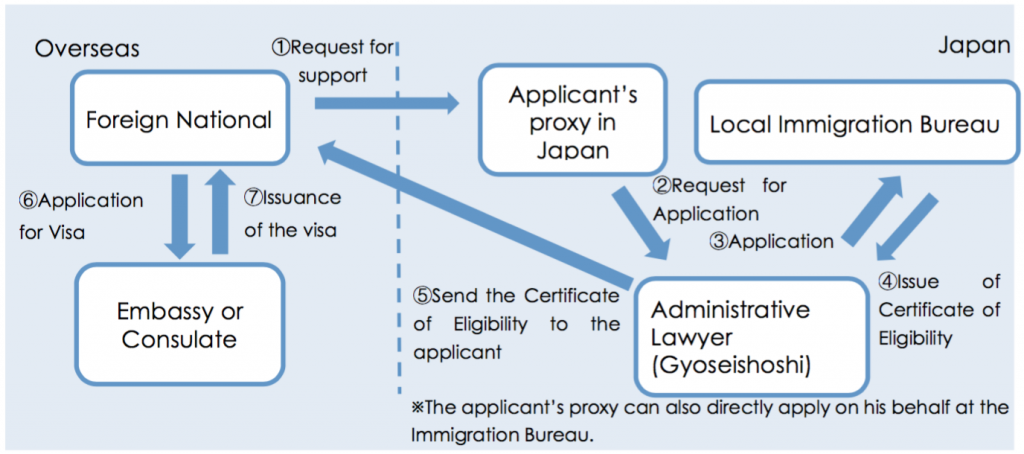 Criteria to be eligible for a Business Manager visa.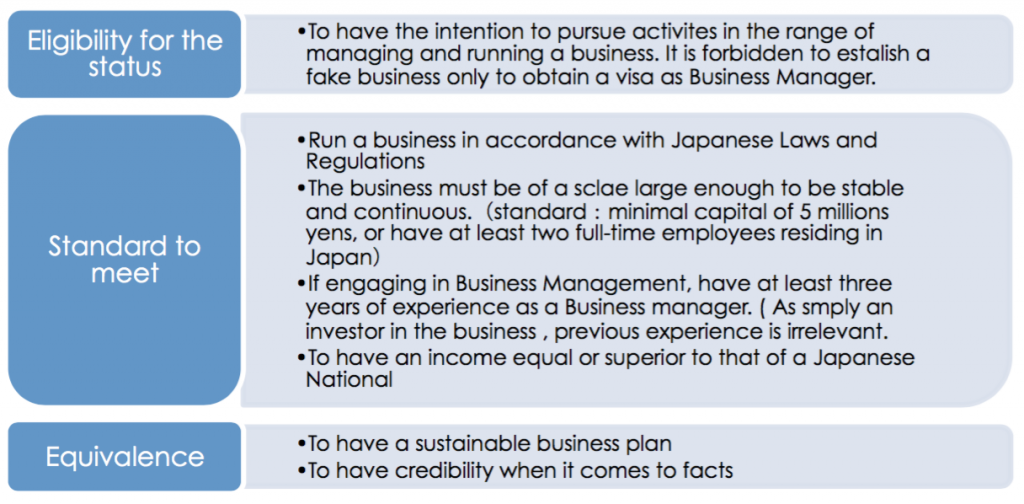 Documentation needed when applying for a visa as Business Manager
l   Application form (Application for Certificate of Eligibility, Application for Change in status of residence)

l   One full-face photograph(4cm in height×3cm in width)

l   Passport and residence card(※when applying for a change in status of residence)

l   Record of the shareholders meeting during which the resolution for executive compensation was passed.

l   Curriculum vitae、employment resume

l   Certificate of registration of corporation(or a copy of the Articles of Incorporation if registration has not been completed yet)

l   Certified copy of immovable property registration, Lease contract

l   Copy of business plan → see page 14

l   Copy of the notification of establishment of an office paying salaries
Following the enforcement of the Immigration Control Law amendment in April 2015, a new status of residence for "Highly Skilled Professionals has been introduced. Classified in three categories (Advanced Business Management activities, Advanced specialized/technical activities, Advanced academic research activities), individuals who can score at least 70 points using the points-based system are eligible for application. These are some benefits of holding a highly skilled professional visa.
l   Granting of the longest period of stay ( 5 years)

l   Relaxation of requirements for granting of permission for permanent residence(usual 10 years requirement shorten to 5 years)

l   Relaxation of requirement for granting of permission to work to spouse

l   Permission for employment of domestic worker of foreign nationality

l   Permission for accompaniment by parent( Presumable to watch after kids under 7 years of age)